New Apple Macbook Leather Sleeve For 13 Inch Air, Pro, Pro Retina, M1 Chip Macbook
This 13″ Apple Macbook leather sleeve is a simple envelop sleeve design, with a classic and sleek appearance.
They are manufactured from premium polyurethane leather, glossy and textured, with excellent shock absorbers, scratch resistance, and durability.
This Apple Macbook leather sleeve is a built-in strong magnetic closure, feel easy to access the sleeve case and keeps your MacBook Air 13 safe.
Ultra-fit for Macbook Air leather sleeve 13.3 inch and Macbook Pro 13 inch leather case, the slim and lightweight no more bulky feeling when holding it.
Are sleeves good for MacBooks?
The MacBook Pro is where power meets portability, and it's not an inexpensive computer — this laptop is an investment. If you take it with you on the go, you'll want to use a sleeve to protect your MacBook Pro from damage in case of accidental drops and bumps.
Is Apple leather long-lasting?
It is a robust, flexible, and long-lasting material made from the chemical treatment of animal skins that allows for the prevention of decomposition. Traditional leather, however, is neither eco-friendly, ethical, or sustainable. Luckily, alternatives exist – with apple leather being the most promising.
What happens if the Apple leather case gets wet?
If a genuine leather phone case gets wet, the natural oils can rise to the surface and eventually evaporate, causing the leather to lose its soft, supple feel.
Are leather laptop sleeves good?
As mentioned, a leather laptop sleeve is one of the best ways to protect any laptop. They help prevent those nicks and drops from damaging the laptop inside, in addition to keeping that laptop away from the elements and the outside world that can easily render a laptop broken.
Best Apple Macbook Leather Sleeve | Free Shipping & 30%OFF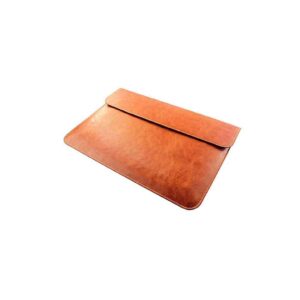 This leather sleeve can fit to all 13 inches laptops includes Apple Macbook, HP, Dell, Lenovo Thinkpad, Acer, Asus, etc. This Apple Macbook Leather Sleeve for 13inch Macbook Air, Pro, Pro Retina, M1 2020, etc
Product Currency: PKR
Product Price: 2299
Product In-Stock: InStock