Bloody B930 keyboard

Optical Switch Gaming
Description of A
4Tech Bloody B930

TKL Optical Switch Gaming Keyboard Gaming Fastest Keyboard Switches in Gaming Ultra-Compact From Factor RGB LED Backlit Keyboard Tactile & Clicky

Detail:
Bloody B930 Keyboard is raising the bar at light speed exclusive switch design blends the speed and precision of award-winning optical technology with a stabilized, premium key feel to withstand the toughest battles.
Innovative Light Strike (LK) Libra technology leverages on a balance bar to control direct up-down movements and prevents accidental keystrokes, allowing you to trigger with absolute speed and accuracy.
Light Strike (LK) Libra switch technology uses an optical detection to react with a lightning speed of 0.2ms response time and an actuation point of 1.5mm.
Light Strike technology outperforms other key switches.
LK optical switch removes all input lag which is able to obtain zero digital latency.
LK Sound Creator Technology developed for "long-lasting" typing sound, while regular switch uses metal friction to generate typing sound and tends to fade away after a several months.

bloody b930 tkl

Optic switch has a life span of over 100 million key strokes. (Traditional metal switch tends to oxidize and wear out easily).
Bloody B930 Keyboard has 6 Types of lighting effects are preloaded in the keyboard by default.
Adjust the lighting effects by pressing the "FN" keys with "F12" keys to rotate without driver.
Press Fn + F12 to adjust the lighting effects.
Press Fn +"↑ / ↓" to adjust the light brightness.
Customize freely 3 types of RGB Animation modes with 16.8 million color options, making your own unique "Self-Customize" RGB.
Store your favorite RGB Lighting Effects from FN+ 0 to 9. And you may share your newly created RGB Animation lighting effects with your friends or vise versa.
Full NKRO ensures each key press can simultaneously register regardless of how many keys are being pressed or held down at a time including modifier keys (Shift, Control and ALT).
Exclusive advanced Nano-coating over the PCB board, protect the PCB from corroding by wet air or caustic chemicals, prolonging your keyboard lifetime.
Bloody B930 Keyboard Liquid Flow-through drainage channels ensure accidental spills won't leave you out of the fight.
The design of the space bar uses double springs and balancing bars so it is accurate and stays durable.
Metallic aluminum alloy surface, durable and long lasting.Engineering for human ergonomics, ensures maximum comfort.
Keep your enemies close and your mouse hand closer.
Save space and feel less strain on your shoulder when playing for extended periods of time.
TKL body makes it quick and portable for gamers on the go.
Specification of
Bloody B930 keyboard
:
Connector: USB
Key Type: Optic switch
Key Response: 0.2ms
Anti-Ghosting Key: 100% Anti-ghosting key
Extra Gaming Keycaps: 8 ABS Keycaps
Hotkey: Multimedia Hotkey
Backlit: Customize RGB Animation
Backlit Brightness: Adjustable
Space-Bar: Screw stabilization enhanced space-bar
Memory Backlight: 6 on board RGB lighting modes
Key Lifetime: Up to 100 million keystrokes
Report Rate: 1000Hz/1ms
Package Includes:
1 x

A4Tech Bloody b930

Gaming Keyboard
Bloody B930 Keyboard |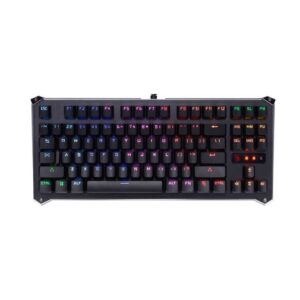 Bloody B930 keyboard has Light Strike (LK) Libra switch technology uses an optical detection to react with a lightning speed of 0.2ms response time. Up to 100 million keystrokes.
Product Brand: Bloody
Product Currency: PKR
Product Price: 10999
Product In-Stock: InStock