Mi Power Bank 10000mah price & Spec
Product Model: PLM13ZM
Battery Type: Lithium-Ion Polymer Battery
Battery Energy: 37Wh 3.7V 10000mAh
Dimensions: 147.8 * 73.9 * 15.3mm
Rated Capacity: 5500mAh (5.1V/2.6A)
Input Interface: Micro-USB/USB-C
Output Interface: USB-A
Charging Time: About Four Hours (9V/2A 12V/1.5A Charger), About Six Hours (5V/2A Charger)
Packing List: One Charging Treasure, One Manual, One USB Data Cable
18W Fast Charge Dual Port Input / Output
Aluminum Alloy Metal Casing
LED Battery Indicator
Double-Click The Current Check Button To Enter The Low Current Mode
Multiple Protections, More Secure:
Temperature Protection
Short Circuit Protection
Overvoltage Protection
Anti-Reverse Protection
Overcurrent Protection

We also have these Power Banks Xiaomi Power Bank 2, Aspor A323, Remax RPP-255, Remax RPP-153, Remax RPP-140, Romos Senese 8P+, Romos Polymos 10 Air, Romos SW20 Pro, Romos OM10, Romos PSP10, Baseus Bopow 10000mAh, Baseus BS 10KPW02, also have, wireless power bank Baseus M36, Romos WSL10.
Mi Power Bank 10000mah price is Lowest | Redmi Power Bank 10000mah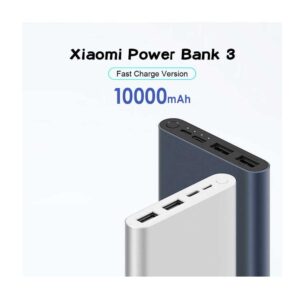 Mi Power Bank 10000mah price is best and reasonable. Mi fast charge power bank charge your devices very quick. This power bank is 18w dual port out put faster charging is more efficient.
Product Brand: Xiaomi
Product Currency: PKR
Product Price: 3999
Product In-Stock: InStock