Detail Of Romoss Ares 10 Power Bank 10000mAh
Dual USB Ports
2 USB outputs can charge 2 devices simultaneously at a maximum speed of up to 2.1 amps.
Accurate LCD Power Display
Accurate and precise LCD power display to tell you how many batteries it still has, no more guessing whether to charge it or not.
Safe Airplane Travels
In line with boarding standards, safe travel can be taken directly to the plane.
Universal Compatibility
The 10000mAh mini power bank is compatible with iOS and Android smartphones, tablets, and other devices.
Romoss Ares 10 Power Bank Specs:
Precise Power Display: This power bank has a digital LED indicator that displays precise battery percentage.

More Powerful: Ares 10 can provide 3.6 charges for iPhone 7, 2.6 charges for iPhone X, 2.3 charges for Galaxy S9, and 1.4 charges for iPad Mini.

2 Inputs & 2 Outputs: Micro-USB and USB Type-C – enjoy the high convenience of recharging this power bank with any of these 2 widely used cables. 2 USB outputs can charge 2 devices simultaneously at maximum speed up to 2.1 amps.

Accurate Digital Power Display: With the exact and clear LCD power display, you will know the real-time power by 1% as opposed to each 25% indicated by a row of LED lights. Recharge your power bank in time.
Package Includes:
1 x Ares 10 mini power bank
1 x User Manual
1 x box
Buy Romoss Ares 10 power bank 10000mAh At Best Price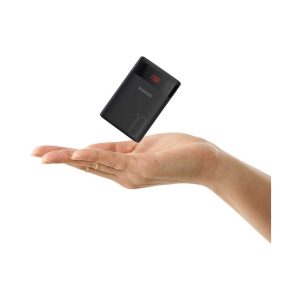 This is mini-size 10000mAh power bank with 2 outputs We offer the best ROMOSS Ares 10 Power Bank 10000mAh Price in Pakistan with free & fast home delivery nationwide.
Product Brand: Romoss
Product Currency: PKR
Product Price: 3899
Product In-Stock: InStock