Remax Lightning Cable RC-080i Tinned Copper Fast Charging & Data Transfer For iPhone
This Remax Charging cable is high-quality wire & make of metal
Make of metal material, aluminum alloy oxidation process and laser carving technology, anti-wind, toughness and pull resistance, anti-rust
Fast Charging Safe. Fast charging, 2.1A (max) 480mb/s
Charge and data transfer USB port output, double-side metal contacts, reversible line insertion.
Charging and data transferring 2 in 1
We also have Remax Lesu 3in1 Cable, Remax 3in1 Cable, Remax 080m Cable, Remax 080a Cable, Remax 044a Cable, Remax 044i Cable, Remax 044m Cable, Remax 134i Cable, Remax 134a Cable, Reamx 094a Cable, Remax 094i Cable, Remax 094m Cable, Remax 080i Cable, Remax Micro USB Magnetic Cable, Remax Magnetic Cable Type-C, Remax Magnetic Cable iPhone, WK Micro USB Cable, Romoss CB05 Micro USB Cable.
Remax Lightning Cable RC-080i Tinned Copper | Best iPhone Cable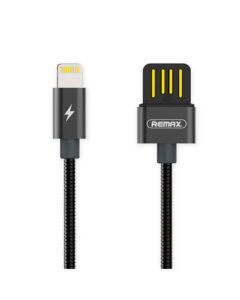 This is Remax fast charging cable which carries a current 2.1A and 480Mb/s transfer rate. This Remax lightning cable RC-080i Tinned Copper length is 1 meter.
Product Brand: Remax
Product Currency: PKR
Product Price: 699
Product In-Stock: InStock