BM 502 Condenser Microphone
Description:
Mic for pc effectively minimizes off-axis noises such as room ambiance, monitors, and off-axis instruments.
This is condenser microphone as a result you get high-quality sound output.
The streaming microphone output result in quiet, noise-free output while maintaining maximum signal gain.
This cardioid polor pattern design streaming microphone has large diaphragm therefore high-quality sound output
BM 502 Condenser Microphone kit provides a wide frequency response as a result you get excellent signal-to-noise ratio.
[Great In Both Vocal And Instruments]-Wide frequency response makes it an ideal mic to capture vocals, acoustic guitars, acoustic pianos and even strings as the condenser is able to take an accurate snapshot and capture all the subtleties and nuances inherent in these instruments
[Low Noise]-It features high signal-to-noise ratio (SNR) that means less distortion to be caused on the process of recording, Unique 3-layer protection system prevents unwanted pop noises—providing singers with a clear, plosive-free vocal performance
[Excellent Sound Quality]-With rugged construction for durable performance, the vocal microphone offers a wide frequency response and handles high SPLs with ease.Ideal for project/home-studio applications.The cardioid condenser capsule offers crystal-clear audio for communicating, creating and recording.Comes ready to go with a desktop mic stand and 2.5M USB cable,you're guaranteed to get great-sounding results.
[XLR three-pin Interface]- high-quality sound quality transmission
We also have BM502, Synco LVA-S8, Boya M1DM, Boya M1, Boya M1 Pro, Boya MM1, Boya MM1+, Boya M2, Boya M3, Boya Conference Mic MC2, USB Mic PW8, Wired Lavalier MicrophoneShure SM58, Interview Mic, Mic For iPhone, XO Type-C Mic, V8 Sound Card, Phantom Power 48V, Complete Vlogging Kit. Pop Filter, XLR Female to 3.5mm, XLR Male to Female, also, have wireless Microphones TNVI V3, TNVI V3 Dual Channel
Specification:
Model: BM-502 microphone (gold-plated)
Microphone Type: condenser
Pointing Characteristics: heart-shaped pointing
Channel: 2
Input Voltage: 5V
Sensitivity: -36dB+-2dB
Equivalent Noise Level: 18dBA
Rated Current: 3mA
Size: 20*5.2*5.2cm
Applicable Objects: household, computer, recording special, musical instrument
Package Includes:
Microphone*1
audio cable*1
shock-proof bracket*1
Blowout preventer*1
manual*1
packaging color box*1
BM 502 Condenser Microphone Price is Low | Best Mic For Gaming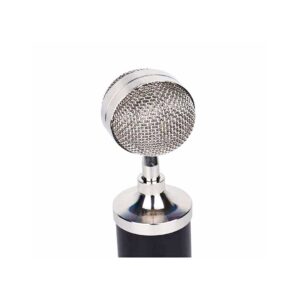 This microphone comes with XLR to 3.5mm cable. We offer the best BM 502 Condenser Microphone price in Pakistan with free & fast home delivery nationewide.
Product Currency: PKR
Product Price: 3599
Product In-Stock: InStock