Boya MM1 plus
Compatible with Multiple Devices
The Boya MM1+ is a super-cardioid plug-and-play microphone that ideal for Vlogging, Video Apps, Audio Recording Apps, Live streaming, YouTube, Social Media Videos and much more. It features with a 3.5mm TRRS to TRS cable and a 3.5mm TRRS to TRRS cable that makes it possible to work with smartphones, tablets, DSLRs, consumer camcorder, PCs and more.
High-quality Sound & Effortlessly Portable
The Boya MM1+ features a compact and rugged aluminum body, but it still has an incredible lightweight (60g). It is the perfect way to record great sound anywhere, because it is so compact and lightweight, you can bring it everywhere, whether you are using Video Apps or Audio Recording Apps, Live streaming, recording a live performance, or online chatting. .  All you have to do is pull it out of your pocket and plug it in, and you'll have dynamic, broadcast-quality sound that brings your content to the next level.
Smart Design & Easy to Get Started
The BY-MM1+ is designed with a 3.5mm headphone output, it is quite convenient for users to monitor the sound recording process (in smartphone model). The detachable shock mount in the kit provides a reliable and solid construction, effectively eliminating noise from vibrations and camera handling. The BY-MM1+ is extremely easy to use, just plug it in and start the video, audio or streaming app of your choice and start recording. It's an extremely affordable and simple way to give your content a professional level of sound quality and will never need batteries or charging.
Difference between MM1 & MM1+
The main difference between these two microphones is that BY-MM1+ is a normal shotgun condenser microphone and the BY-MM1 Pro is Dual-Capsule condenser microphone. This means that the BY-MM1 Pro has two microphones in one. One pointing forward and one pointing backwards. The Boya MM1+ is an advanced version of MM1
We also have BM502, Synco LVA-S8, Boya M1DM, Boya M1, Boya M1 Pro, Boya MM1, Boya MM1+, Boya M2, Boya M3, Boya Conference Mic MC2, USB Mic PW8, Wired Lavalier MicrophoneShure SM58, Interview Mic, Mic For iPhone, XO Type-C Mic, V8 Sound Card, Phantom Power 48V, Complete Vlogging Kit. Pop Filter, XLR Female to 3.5mm, XLR Male to Female, also, have wireless Microphones TNVI V3, TNVI V3 Dual Channel
Boya MM1 Plus Price in Pakistan | Original Best Boya MM1+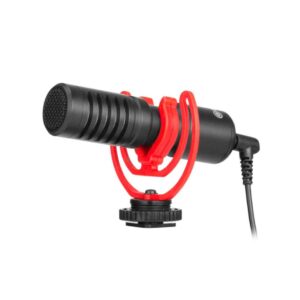 Boya mm1+ is a super-cardioid condenser shotgun microphone. Boya mm1 plus has Improved sensitivity and signal to noise ratio.
Product Brand: Boya
Product Currency: PKR
Product Price: 6199
Product In-Stock: InStock