XO Type C Microphone with 2m Wire Collar Type
Detail:
Clip-On Mic for Smartphones, Audio recorders.
Superb sound for presentations and video recording.
Omni-directional condenser microphone.
High-quality condenser is ideal for video use. Low handling noise.
Includes lapel clip, foam windscreen, 3.5mm adapter.
Specification:
Efficient use for voice recording
Perfect for vloggers and voiceover Artists
Type-C interference
HD quality recording
Line control microphone
We also have BM800, BM502, Boya M1DM, Boya M1, Boya M1 Pro, Boya MM1, Boya MM1+, Boya M2, Boya M3, Boya Conference Mic MC2, USB Mic PW8, Wired Lavalier Microphone Shure SM58, Interview Mic, Mic For iPhone, V8 Sound Card, Complete Vlogging Kit. Pop Filter, XLR Female to 3.5mm, XLR Male to Female, also, have wireless Microphones TNVI V3, TNVI V3 Dual Channel
Package Includes:
Type C Microphone Top Quality | USB C External Microphone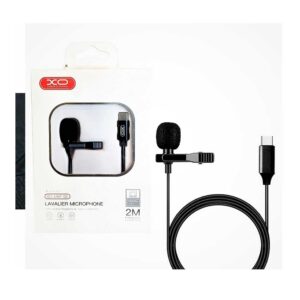 Economical Type C Microphone is available. Type c lavalier microphone is a clip on. USB c Mic is omnidirectional. It is very ideal for vlogging.
Product Currency: PKR
Product Price: 950
Product In-Stock: InStock