TNVI V3 Dual Wireless Microphone
Detail:
The wireless lavalier microphone system adopts 2.4G wireless signal transmission, low noise, and low latency, which supports a stable and effective 40ft transmission range.
The transmitter and receiver have built-in rechargeable batteries and support 6-8 hours of operation after a full charge. Comes with 2 USB charging cables, you can charge the transmitter and receiver simultaneously.
Metal mini clips allow you to attach the microphone and transmitter to your neck, tie or pocket easily. The small size and lightweight design ensure that you hardly notice that the microphone and transmitter are there.
Comes with a 3.5mm TRRS plug adapter, the receiver can be connected to the smartphone, PC, laptop, tablet, camera and speaker with a 3.5mm interface for video recording or talking outdoors.
Wide applications, suitable for video recording, live streaming, online chat, singing, speaking, lecturing, classroom teaching, tour guides, etc.
We also have BM800, BM502, Synco LAV-S8, Boya M1DM, Boya M1, Boya M1 Pro, Boya MM1, Boya MM1+, Boya M2, Boya M3, Boya Conference Mic MC2, USB Mic PW8, Wired Lavalier MicrophoneShure SM58, Interview Mic, Mic For iPhone, XO Type-C Mic, V8 Sound Card, Phantom Power 48V, Complete Vlogging Kit. Pop Filter, XLR Female to 3.5mm, XLR Male to Female, also, have wireless MicrophonesTNVI V3.
Specification:
Power supply: Built-in lithium battery
Charging voltage: 5V DC
Type:Lavalier Microphone
Color: Black
Material: plastic
Size:58.5 x 29mm
Package Includes:
2 x TNVI V3 Mic transmitter
1 x TNVI V3 Mic Receiver
1 x Aux Cable for Mobile Phone
1 x Aux Cable for Camera, PC, Laptop, etc.
1 x USB to Dual Type-C Charging Cable
1 x Carrying Pouch
TNVI V3 Dual Wireless Microphone With 2 Transmitter & 1 Receiver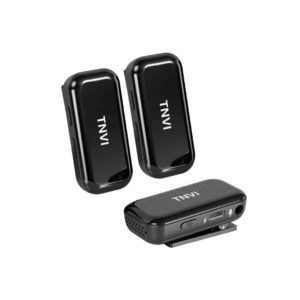 This dual channel wireless microphone system is rechargeable. We offer the best TNVI V3 dual wireless microphone price in Pakistan. This dual wireless microphone system has 2 transmitter & 1 receiver.
Product Brand: TNVI
Product Currency: PKR
Product Price: 17500
Product In-Stock: InStock